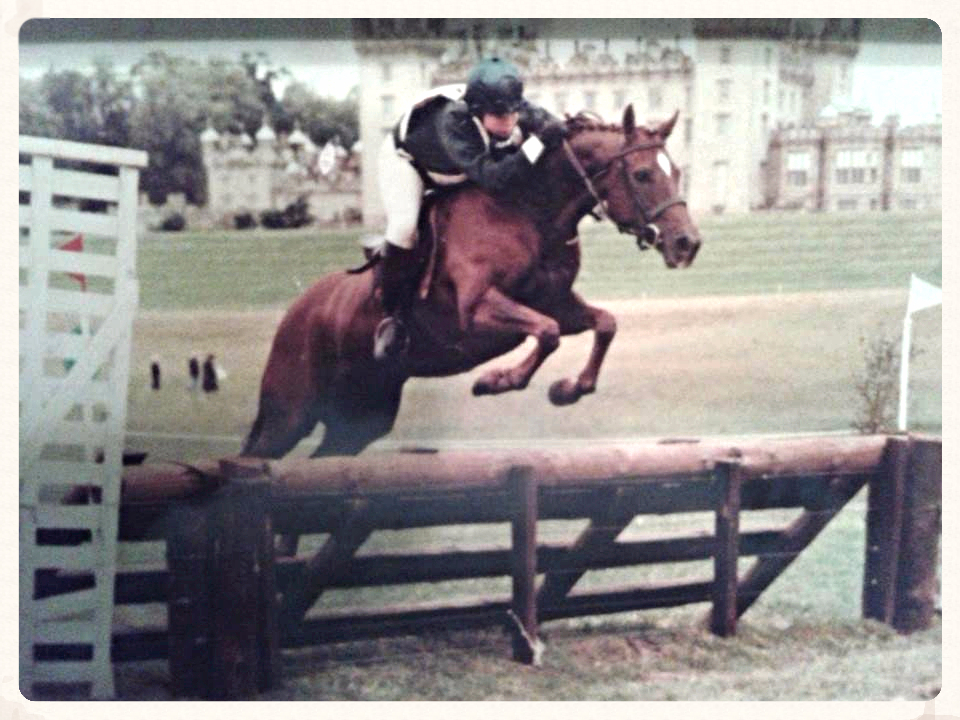 Trish has been brought up with horses all her life and has competed in many disciplines over the years including Pony Club, Showjumping, Eventing, Showing, Pony Racing, Hunting and NH Racing. Her passion for working with animals lead her to do an honours degree in Animal Science at The University of Nottingham, Sutton Bonington Campus. Since graduating Trish has worked for the University of Warwick as a Research Technician on various animal health projects, and then as a Scientific Officer for ADAS, again being involved in a range of animal health projects.
Over the last 10 years Trish has been heavily involved with the training of Point to Pointers and Racehorses at Jane Walton Horse Racing where she is currently the Assistant Trainer. It is here where Trish discovered the benefits of Equine Sports Massage. One of the horses at the yard was very protective of his own space in the stable and had an aggressive temperament when in his stable, hence why his nickname is Rottweiler! Trish started 'brushing' him with her hand and Rottweiler seemed to prefer this to a proper brush. This prompted her to look into learning more massage techniques on the internet. The results were amazing! When performing basic massage techniques on Rottweiler he totally relaxed and became a different horse.
Wanting to learn more about Equine Sports Massage, Trish enrolled on to an Owners Workshop ran by Angela Hall from the Equine Massage Academy (EMA) and then went on to successfully complete the professional Equine Sports & Remedial Massage Practitioner course accredited by LANTRA, gaining a Distinction in Equine Sports & Remedial Massage with final exam result of 96%.
CPD is always on going as there is now ongoing scientific research about massage and all other forms of body work. This is great for the equine industry as horse owners can now book fully qualified and insured massage practitioners such as myself who are taking an evidence based, proactive integrated approach to equine health and well-being.
CPD courses successfully completed to date include:
Cranio Sacral Adjustment - With EMA at Bishop Burton College
Advanced Myofascial Release - With EMA at Bishop Burton College
Equine Mobilisation & Adjustment Training Clinic for Practitioners which focuses on improving spinal freedom.
Advanced Myofascial release for Therapy & Performance Training - with EMA at Bishop Burton College
EMMETT Short Course for Horses CPD - With Nikki Murdoch
Low Level Laser Therapy (LLLT): Application for Equine Rehabilitation - With EMA & Veterinary Physiotherapist Jennifer Williams at Bishop Burton College.
Pulsed Electro Magnetic Field Therapy (PEMFT): Application & Theory - With EMA & Veterinary Physiotherapist Jennifer Williams at Bishop Burton College
Groundpole Exercises & Rider Evaluation - With Veterinary Physiotherapist Caroline Lindsay
Over the last 6 years Trish has worked on many racehorses, point to pointers, showjumpers and eventers. With veterinary approval Trish has been involved in the rehabilitation of horses that have undergone Spinal Surgery and other major veterinary treatments to get horses back on track and in good health as quickly as possible. Massage Therapy after veterinary treatment can help to achieve the best results for the horse and helps to reduce scar tissue that can end up restricting range of motion.
The majority of the horses that Trish provides equine sports massage for often started off requiring remedial sports massage to resolve tension, adhesion's and trigger points. They have then gone on to maintenance sports massage programs, and its great getting to know so many horses and ponies, feeling the improvements in suppleness and seeing the improvements in range of motion. On maintenance programs it then becomes much easier to detect when a change in the horses training / tack / environment etc is having a positive or negative effect on their musculo-skeletal. Owners and trainers then have more insight as to what is beneficial for their horses health and well-being.
Trish is going to continue in her role as Assistant Trainer for Jane Walton Racing and will be available to offer equine sports & remedial massage therapy for other clients during afternoons. To provide professional equine massage treatments for her clients, Trish regularly attends CPD courses to offer the very latest in scientifically proven techniques.
Trish is also a Training Associate with the Equine Massage Academy (EMA) and a member of the Equine Massage Academy Association (EMAA).